~ S.T.A.L.K.E.R Shadow Of chernobyl ~
(Clear Sky+Call Of Pripyat)
"Alloué 4GO De Mémoire Au XR_3DA.exe pour toute version"
(v1.0001 to v1.0006)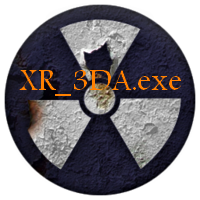 Suite a un bon nombre de retour windows (crash) du au manque de mémoire vive utilisez dans le DMX mod
par le fichier exécutable "XR_3DA.exe" alloué a seulement 2GO de mémoire je me permet donc de vous
publier ou plutôt vous proposer d'augmenter la quantité et la capacité de mémoire a 4GO
Donc voici la version proposer par Kingo64 ici - https://sites.google.com/site/kingo64ssite/Home/patched-exes
Vous aurez l'exécutable (XR_3DA.exe) des 4Go de mémoire pour toutes les patch de v1.0001 à v1.0006 pour
Shadow Of Chernobyl, Clear Sky et Call Of Pripyat
Si vous voulez allez au plus simple je vous suggère le mien que j'ai proposer dans l'archive du DMX 1.3.5 ENGMOD
Vous pouvez le téléchargez ici (Lien Mis à Jour Le 24 mars 2014) - http://c18xb29h2p.1fichier.com/ Celui-ci est uniquement pour SOC

Comment patché votre "XR_3DA.exe" -
1 - Décompresser l'archive "4GBpatcher.7z" dans le dossier "bin"
2 - Ensuite double-click sur "XR_3DA 4GB patcher.exe" on vous demanderas alors de parcourir afin de recherchez
le fichier "XR_3DA.exe" dans le dossier "bin"
3 - Une fois trouvez sélectionnez-le et faite "Ouvrir" Voilà! vous aurez une confirmation comme quoivotre exécutable
a bel et bien été patché pour les 4GO de mémoire.
ATTENTION!! Important

- "Faites une sauvegarde du "XR_3DA.exe" original avant d'appliquer le "XR_3DA 4GB patcher.exe"Si vous avez des suggestions a nous faire ou toutes autres renseignements qui na pas été mentionner vous pouvez
nous le proposer en publiant votre message ici.

Merci et à la prochaine!